~~~
Survey of World War Two Defences in the Borough of Colchester
Project report 2007, (2020 on-line edition)

by Fred Nash, CAG and Essex County Council
This is an

On-line edition only

, Produced from orginal text for members

and the public to browse in May 2020.
The original Report is now divided into the five downloadable pdf files below
(1) Prelims and Contents (click here)
(2) Introduction, History to Appendices. Site Grading and Site (SMR) Inventory
and map of Defence sites,
(3) Section A:  Sites Records: SMR 8913-10961
(4) Section B: Site Records: SMR 10962-20511
(5) Section C: Site Records: SMR 20512-21159
~~~
The Stour Valley: A Prehistoric Landscape
A 40 page summary of investigations by CAG into the cropmarks of the Middle Stour Valley (Bures – Wormingford area). This covers evidence of a Neolithic Cursus, a Long Barrow and Bronze Age rings. Each section of the flood plain is covered in detail with maps, aerial images and explanations. Price £3 plus P&P – see Sales email above.
 The Lost Mansions of Marks Hall – From Demolition to Discovery
The story of the CAG Archaeological dig at Marks Hall. 26 colour pages. £5.00 plus p&p
 
The Lost Tudor Hunting Lodge at Wormingford
The story of the excavation of a Tudor Hunting Lodge on the Essex/Suffolk border. A4, 24 pages, fully illustrated throughout in colour. ISBN 978-0-9503905-2-9.  £2.00 plus p&p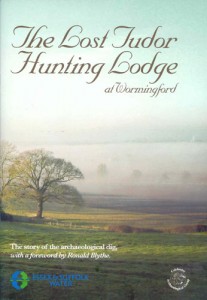 The Red Hills of Essex
The Survey of Essex Salt making red hills by CAG published in 1990 is still a key reference book for anyone studying this subject. 100 pages £5.00 plus p&p.
The full set of four publications can be ordered for £10 plus p&p